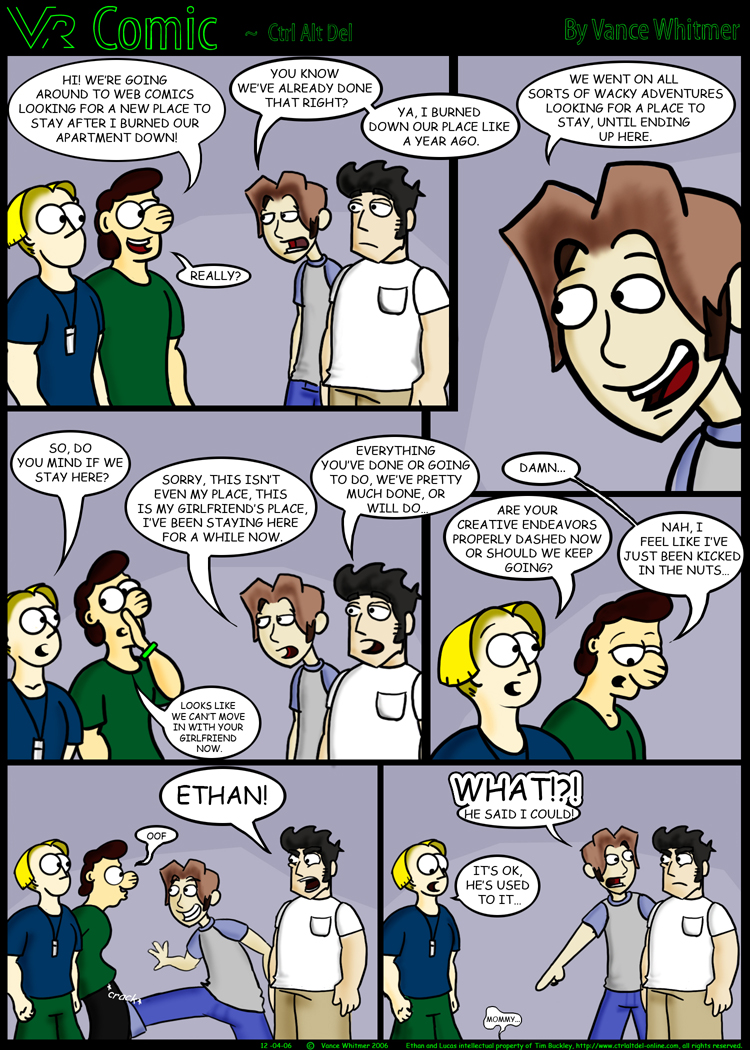 First and foremost! WE HAVE A COMMENTS BUTTON! under the comic now. PLEASE comment on what you think of the comics. This is soon to be retroacted through out all of our comics, so if there is a comic you saw back when you really wanted to tell me something on, you can (when Reese gets around to retrofitting the pages).
A few rules to the comments. Leave comment, not self propagations. If you have a comic you want to plug the proper place to put that is in your "homepage" URL: section. Also, try and leave your name, or a pseudonym, I really don't want to thank anonymous for liking my work. This comment section has been brought to you by my need to make hearing back from you easier. Since e-mail is somewhat too cumbersome.
OK, now that that's out of the way...
We're off to
Control Alt Delete
. Unintentionally we've fallen onto somewhat of the same story path with Tim Buckley over there, (apparently
burning down apartments
is more common them originally thought) and all my ideas for storyline, it seems, he's already done. His comics got a couple of years on mine, so it's not to huge a shock.
Honestly, I hadn't read a great deal of his comic before I started my little fire campaign, and only as I was talking though my ideas with Reese had I found out our paths were so similar. I have now read though the entirety of his material and love it to no end (5 years of comics ain't an easy thing to breeze through). I guess great minds do think alike.
Plus, it's a
while
since I've been wanged in the chung so I figures it was coming.
I always enjoy the comics that result in Vance being kicked in the groin the most. I'm not sure why, but it just always seems so right.