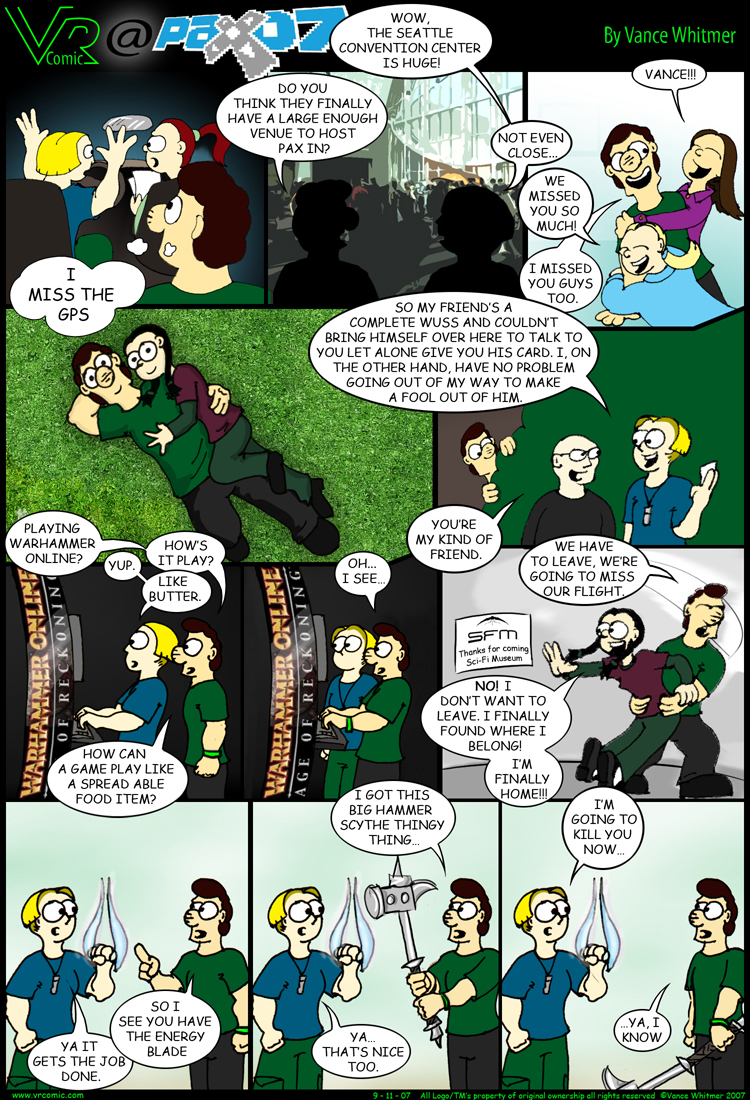 What can I say, it's been a long time coming, but the
PAX 07
comic is finally finished. It took much longer then expected but I think it turned out well. I had a version of it almost completed yesterday to be posted on time, but it seemed a bit hollow, especially compared to years past, so I decided it would be better to take the extra time and flesh it out to the extent that I could be happy with and you would enjoy more.
All and all PAX was a blast. We didn't do nearly as much as we wanted to but the staples were still hit with precision. Those being: the PA panels (which are always hilarious), exhibition hall, the make a strip panel, and various others that we try never to miss. We also had a chance to see the key note speech given by
Will Wheaton
, which was well received by the general masses, in which I mean it kicked ass.
We obviously got some hands on time with
Warhammer Onling
in the exhibition hall as well as some other unforeseen gems.
Dragon Ball Z Budokai Tenkaichi
was surprisingly exhilarating. fast paced, slightly third person view, it had a much more solid DBZ feel then I've gotten from previous DBZ fighting games. We also got to try out
Naruto: Clash of Ninja Revolution
for the Wii, which is essentially Naruto: Gekitou Ninja Taisen! 3 (which we have the import and have unlocked and loved the hell out of). It plays well and has some really interesting ways to incorporate the Wiimote into the gameplay and cut sceens. The last thing I'll mention from the exhibition hall was the game
Castle Crashers
, for X-box live. I had so much fun playing this game. It reminded me of all the old arcade scrollers I loved to play so much (like; X-men, The Simpsons, Ninja Turtles) and it had such an exciting feel to it. I was very happy to scrounge a game or two out of that. There's so much I've forgotten, even as I write these things more come flooding in. Hopefully Reese will be able to catch some of the larger portions I have blatantly missed.
So lastly, upon returning home and viewing much of the throng of images out there archiving PAX in everyone's little hearts, I see images of Jonathan Coulton. OMFG!!! I love his music and the fact that he was there and I was too oblivious to realize that that pisses me off to a degree I reserve for puppy kickers and people who don't like pie. He's even on my friggin
myspace
friends list... I quit...
What can I say? PAX was great.